Apple unveiled iOS 10, the next-generation operating system for the iPhone, iPad, and iPod touch, on June 13, 2016, releasing it to the public exactly three months later on September 13. At the introduction, Apple CEO Tim Cook described iOS 10 as the "biggest release ever" for iOS users, and the operating system includes major updates for a wide variety of apps, services, and features, including Messages, Siri, Photos, Maps, Apple Music, News, Apple Pay, Control Center, and more.
Works with iPhone 5, iPad 3, iPad mini 2 and iPod touch 6th gen or higher
All 30-pin dock devices are out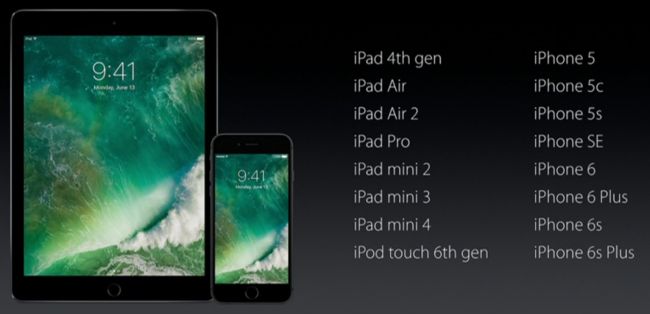 These are the main new features:
iOS 10 raise to wake
Just pick up your iPhone and it'll wake up
Notifications don't vanish when brushing up against Touch ID
Rich lockscreen notifications
No need to exit the homescreen for quick reads and replies
Works with third-party apps like Uber and Apple Home devices
Clear all notifications button
Vanquish all notifications at once with 3D Touch. That's it.
Water detection
iPhone 7 and iPhone 7 Plus are water-resistant, but all other iPhones are not
iOS 10 will warn of possible water damage and provide instructions
Control Center is decluttered
Swipe-up-from-the-bottom menus is now split into several panels
Broken into: quick settings, media playback and Apple Home
Touch detection issues for brightness slider vs sliding between panels
Lockscreen camera and 'widgets'
Slide left to reveal the new spot for the Today widgets
It's not as customizable as Android widgets, but closer
Too much empty space when widgets have no content
Slide right to reveal the new camera shortcut
Graphical 3D Touch shortcuts
3D Touch (pop) your way to more detailed information (peek)
Activity and sports score apps like ESPN provide colorful stats
Talk to Siri normally
You don't have to talk like a robot to your robot phone
Siri third-party apps
Siri now works with more third-party apps, not just Apple's apps
WhatsApp, Uber and MapMyRun can now use Siri, for example
Siri-influenced QuickType keyboard
Makes next-word suggestions based on whole sentence context
Suggests address, calendar appointments and current locations
Photos with advanced computer vision
iOS 10 automatically pieces together photo albums for you
Creates mini-movies filled with video and photos, complete with titles
Apple Maps is way better
Look ahead to the next turn without springing back into place
Free to pan, zoom and explore nearby points of interest
Still can't compete with the juggernaut that is Google Maps
Apple Music
Cleaner interface for APple's paid music streaming service
Lyrics for songs, and New tab replaces Browse
Apple News
Magazine and newspaper subscriptions incorporated
New 'For You' tab filled with personalized topics
Breaking news notifications
Home app
New app that ties together all of household devices
Control lights, door locks, alarms and even blinds
Siri and Control Center menu allow for quick access
Phone
Transcriptions now available in Visual Voicemail tab
Could warn that incoming calls are 'Possible Spam'
Contact information shortcut could point to VoIP and WhatsApp
It's based on how you most frequently contact that user
Messages
Emojis are three times bigger and it's easy to replace words with emojis
Adds invisible ink, tapbacks, bubble effects, digital Ink and stickers
Learn more http://www.apple.com/ios/ios-10/