Welcome to Sally & Friends!
Sally & Friends interactive books are specifically designed to improve listening and reading comprehension skills. They also develop interest in reading in different languages in toddlers and young children.
Our interactive books include comprehension questions in a game-like quiz carefully designed to ensure that the children answers are a true reflection of their comprehension level, and not a result of memorising the correct answers. Questions and answers can be performed with text and audio, only with text or only with audio, to exercise reading and listening comprehension separately.
The narration can also be recorded by the user, so the children listen the story from a familiar voice, like Grandma, Grandpa, Dad or Mom.
Reading and listening skills
Improves reading and listening comprehension skills by using a game-like quiz that is funny and interesting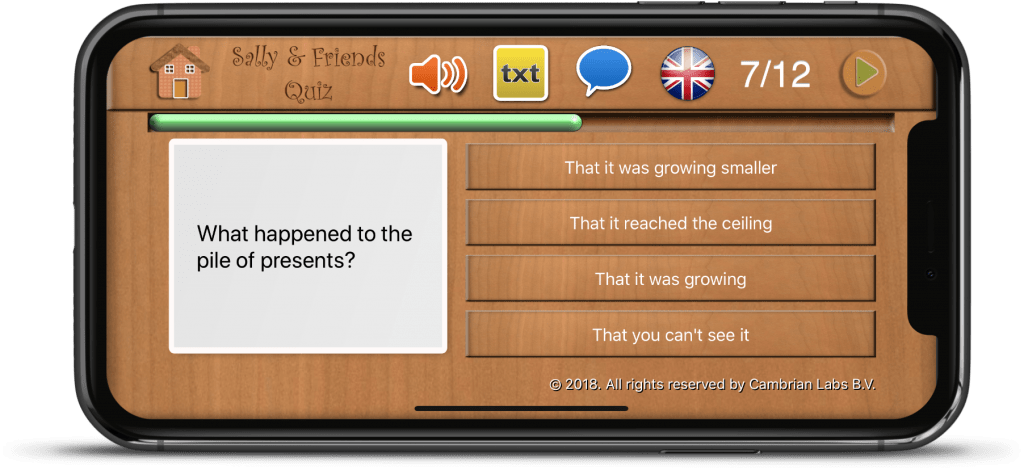 Record your own voice
Allows children to listen stories from family members that are far from home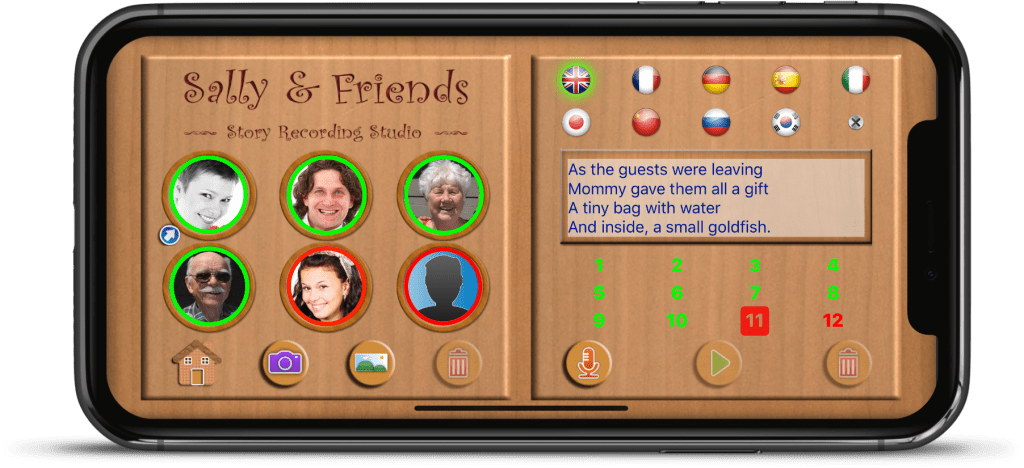 Features
Child-friendly and intuitive user interface
Quiz with comprehension questions with only text, only voice, or both
Easy to record narrations with our Story Recording Studio
Recorded narration can be sent to other devices
Read-to-me or Read-along
Age verification control to prevent children from accessing restricted functions
English, German, French, Spanish, Italian, Russian, Japanese, Traditional Chinese and Korean
Story narrated by professional voice over artists
Easy switch between languages
Pause/Resume Narration
On/Off control for Music, Sound Effects, Text and Voice
Finger swipe or Buttons for Next/Previous page
No Ads, No In-App purchases, No internet connection needed, No personal information is collected
Testimonials
ITS COOL - ""My son loved it. He wanted to watch it everyday before sleeping. I often saw him smile while watching...very great app..."
GOOD APP - "It helps to improve reading skill in children. Highly recommend for parents. Try it"
RECOMMENDED - "It helps to kindle the interest in reading of children. Parents should let children to play this game"
I LOVE IT - "This is a great way to spend time with your little one my baby loves the music along with the...
VERY GOOD - "The only story app that present in moving illustration style. Graphics, music, voice are great. App run smoothly as well"